2021 – 64 Holy Week in Sachica, Boyaca
Start date: April 01, 2021
End date: April 03, 2021
Those who visit Sachica, Boyaca during Holy Week will be able to live again, through a staging, with more than 100 actors from the region, each of the moments of the passion, death, and resurrection of Jesus Christ, a tradition that for more than 60 years has aroused the fervor of those who come to this act.
Below you will find the detailed schedule of "Holy Week in Sachica, Boyaca" (Available only in Spanish).
2019 – POSTERS & SCHEDULE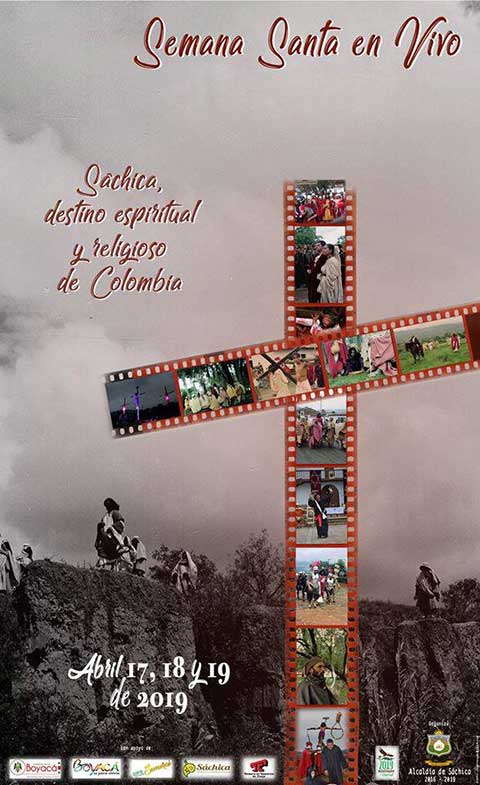 SCENES
​The theatrical performance will be staged on Wednesday, Thursday, and Friday and will begin at 1:00 pm, and the 25 scenes are repeated every day during the 3 days.
RIO JORDÁN DE SÁCHICA
1. Representación de los cuadros bíblicos, el bautismo de Jesús, elección de los 12 apóstoles, la tentación
PORTAL HOTEL SANTA CECILIA
2. Sermón de la montaña Bienaventuranzas
​DETRÁS VIRGEN MARÍA
3. El buen pastor, la multiplicación de los panes, niños ante Jesús
​BALCÓN HOTEL CALLE PRINCIPAL
4. Herodes de Antipas, Salomé Juan Bautista y arresto
ALJIBE DE AGUA
5. La Samaritana
BALCÓN HOTEL PLAZA MEDINA
6. Joven rico
​GALERÍA ARTESANAL
7. Encuentro con la Magdalena sanación paralítico y ciego
PLAZA PRINCIPAL
8. Entrada a Jerusalén
CASA DE LA CULTURA
9.Templo de mercaderes
10. Arrepentimiento de Magdalena
CASA FAMILIA BUITRAGO
11. Las treinta monedas
CANCHA DE MICROFÚTBOL
12. La última cena
PARQUE DE LOS OLIVOS
13. Huerto de los Olivos
FRONTISPICIO ALCALDÍA
14. Jesús ante Caifás, negación de Pedro
CONJUNTO DOCTRINERO
15. Jesús ante Pilatos, liberación de Barrabás, Jesús sentenciado, arrepentimiento de Judas
CRUZ ATRIAL
16. Flagelación de Jesús, Imposición de la corona de espinas, entrada de los ladrones
CALLE DE LA AMARGURA
17. Calle de la amargura
18. Jesús cae por primera vez
19. Segunda caída, entrada de Verónica
20. Encuentro de Jesús y María
21. Cirineo ayuda a cargar la cruz
22. Jesús y las mujeres de Jerusalén
23. Ahorcamiento de Judas
MONTE CALVARIO
24. Jesús despojado de sus vestiduras
25. Jesús crucificado, Las siete Palabras, Muerte de Jesús, descendimiento de la cruz, imagen de la dolorosa
HOLY WEEK MASS SCHEDULE
SUNDAY, APRIL 14
PALM SUNDAY
11:00 am
Procesión y Bendición de Ramos
MONDAY 15 – WEDNESDAY 17
MONDAY, TUESDAY & WEDNESDAY
2:00 pm – 5:00 pm
Confesiones
TUESDAY, APRIL 16
HOLY TUESDAY
6:00 pm
Misa de entronización de los oleos para los enfermos y unción tercera edad
WEDNESDAY, APRIL 17
HOLY WEDNESDAY
1:00 pm
Vía crucis (Alcaldía)
6:00 pm
Vía crucis por las calles de Sáchica
THURSDAY, APRIL 18
HOLY THURSDAY
8:00 am
Misa para los enfermos
11:00 am
Conmemoración de la cena del Señor
1:00 pm
Vía crucis (Alcaldía)
7:00 pm – 8:00 pm
Hora Santa
FRIDAY, APRIL 19
GOOD FRIDAY
10:00 am
Celebración de la "Pasión, Muerte y Resurrección de Jesús"
​1:00 pm
Vía crucis en Vivo
​7:00 pm
Celebración de la "Pasión, Coronilla de la Misericordia, Procesión de la Dolorosa al Santo Sepulcro"
SATURDAY, APRIL 20
HOLY SATURDAY
7:00 pm
Bendición del fuego, Cementerio Central, Vigilia Pascual, Cirio Pascual
SUNDAY, APRIL 21
EASTER
10:30am
Procesión con el señor resucitado desde el humilladero (sala de velación) alrededor del parque hasta el templo
11:00am
Misa de Resurrección
6:30pm
Celebración Eucaristica
RECOMMENDATIONS TO ASSIST AND ENJOY SAFELY THE HOLY WEEK
​Remember that it will be crowded, so this event is not recommended for pregnant women and older adults with mobility problems.
HELP US WITH THE TRAFFIC CONGESTION
If you are planning to come by car, check the road plan before entering Sáchica.
Identify public parking and avoid entering the historic center with your vehicle.
NOTE: The start of the scenes will be subject to weather conditions.
​FOR THE SAFETY OF ALL
All children must be accompanied by an adult.
Remember that it will be crowded, so this event is not recommended for pregnant women and older adults with mobility problems.
Check the road plan before entering Sáchica, avoid entering your vehicle into the historic center, leave it in a parking lot.
The representation of the scenes will begin at the scheduled time. However, it is subject to weather conditions.
There will be zones exclusives for the use of pedestrians. Please, do not park or drive on these.
These recommendations are for your safety, keep them always present.
PREVIOUS YEARS POSTERS